The Cellar
HOURS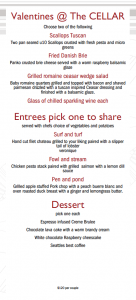 The Cellar is pleased to announce our menu selections for our Bistro Valentines Dinner on Feb. 14!
Book your reservations now!
This Week's
LUNCH SPECIALS
The Cellar Fine Steaks & Wines was born through a love of superior meals, fine wine and fellowship with family & friends. The desire to provide exceptional experiences to homes in Dothan, Alabama has been a constant and continuing goal. We share our tables with the most special in our lives, why not strive to make each meal great?! Come see us at Dothan's neighborhood Butcher shop, Deli & Bar!